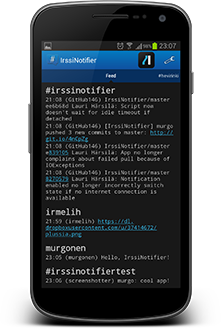 IrssiNotifier
IrssiNotifier+
What?
Get notifications from IRC hilights and private messages straight to your Android™ device! Project is open source, see GitHub project page for details. Check Google Play™ for screenshots. There are also unofficial support for WeeChat and Python.
How?
IrssiNotifier uses Irssi script to send IRC messages to server, and Google's Cloud to Device Messaging framework to send notifications to Android device. This minimizes the battery usage of your device, and enables notifications to be sent near real time.
Where?
First download IrssiNotifier Android app from Google Play. After that, follow instructions about setting up the Irssi script in the help page.
What do I need?
You'll need Irssi running on Linux server or similar (with wget installed). You'll also need an Android device (phone or tablet, or both) with Android version 2.2 (froyo) or later.
Privacy?
All data is end-to-end encrypted with the encryption password of your choice. Password is never sent to the server. You'll have to login with your Google account, but no password or other sensitive data is collected. Check privacy page for details.
Who?
This service was made by Lauri Härsilä, murgo @ IRCnet. If you have any questions, drop me a line by email or join #irssinotifier at IRCnet. Huge thanks to everybody who have donated money or contributed source! Thanks to Heidi Friman for icons.
How can I help?
IrssiNotifier was created entirely on my free time. If you have found IrssiNotifier useful and want to help keep project alive, please consider buying the IrssiNotifier+ and/or donating through PayPal or Flattr.